Reduce replacement costs and enjoy peace of mind with Lakes Region Tent & Event's professional tent washing service.
Do you worry about leaves and moisture left on your tents during the off season? How much effort and time do you spend washing your commercial tents only to find the result is not as bright and clean as it should be?  Have you had to replace a tent earlier than planned simply because it looked dingy?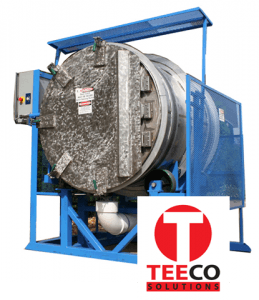 Our state-of-the-art Teeco™ Solutions commercial washer, specially designed for washing large volumes of vinyl and canvas material, as well as sidewalls, webbing and straps, can achieve the quality cleaning you need.
Call us today about our commercial washing services for tent rental operators and individuals or businesses that own a large commercial tent.
Our Tent Cleaning Process
We open the tent and inspect it for damage. We can provide a quote for basic sewing and replacement work.
We scrub both sides of the tent using water and a specially formulated soap designed specifically for vinyl fabric. This step is critical to removing mildew, dirt, leaf stains and soot.
We place the tent into the Teeco machine, which is designed to wash both sides of the tent, for a wash cycle and three rinses. Tent bags and ropes are washed separately.
We hang the tent in our 30' high, temperature-controlled warehouse space for a minimum of four days to thoroughly dry the material.
We fold and roll the tops and put them back into their bags, which are clearly marked for you for pickup, or you can arrange for us to deliver  to you.
It Pays to Professionally Clean Your Tents
A 40' x 80' tent top can cost between $8,000 and $12,000 to replace.  For less than the cost of a single rental ($640 to $800) this tent top could be thoroughly cleaned and its color restored, extending its service life another 1-3 years. That is a substantial return on a professional cleaning investment.
By having our own tent washing facility, Lakes Region Tent & Event's tents are guaranteed to be the whitest and cleanest tents every time. Yours can be too!
Off season and peak season rush cleaning services are available.
For details and rates please contact Eric at 888-380-TENT (8368) or 603-456-2049.