From designing floor plans to setting up the tent, tables and chairs as planned for your wedding, graduation or party, our goal is to ensure all your needs are more than just met.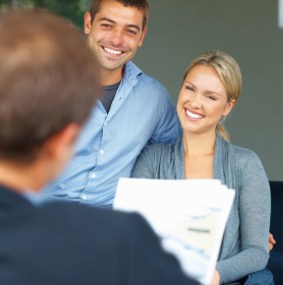 Event Consultation Services
First, we start by providing a FREE estimate that allows you to understand how your budget will be impacted. This is performed by asking all the right questions such as the number of people that will be attending, what type of service stations will be needed, where will the event be held, etc.. We are very knowledgeable in the products we offer and are skilled at site analysis and event requirements. Once the questions are asked a preliminary floor plan is drafted that will provide a blueprint for how the tented facility will be organized. This becomes a working product that ultimately will meet your goals.
Next, we work with your other vendors, such as caterers, DJs, facilities managers, and event planners/individuals that are all part of the special day. By working with other vendors we can further identify requirements such as dance floors, band/DJ layout, floral arrangements, service station layouts, location details and facility rules. We also gain a clear understanding of what the timeline will be for set up and removal.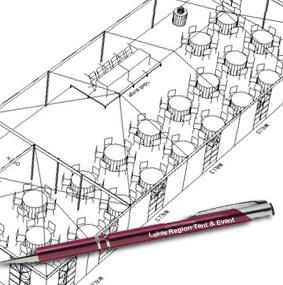 Event Design & Tent Layout Services
Once we've discussed the basics of your event, we'll draft a preliminary floor plan to show you how the tented facility can be organized. This becomes a working document that ultimately drives the final appearance of your event.
Our computerized design program can help you visualize and arrange tables, chairs, dance floor, stages for bands, buffet areas, bars, serving stations, caterer's preparation spaces, and more.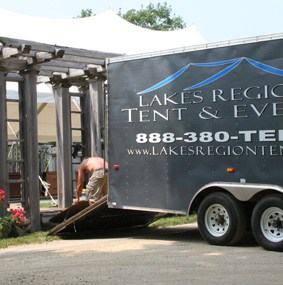 Rental Delivery and Set Up Services
Depending on the availability of the installation site, the weather and your specific event schedule, we typically set up one to three days prior to your event date. In order to serve you best, we can provide after hours, early AM and weekend delivery and pick up.
Chairs can be set up and taken down for an additional charge and our staff can even attend your event to provide further moving and set up help as your wedding, graduation or party progresses.