We first wrote about the rustic wedding trend in July 2010.  Since then, the trend continues with new ideas popping up each season. As a tent and event provider, we have seen it all.  From luxurious vineyard weddings to rustic barn receptions, the following special touches are a hallmark of rustic chic wedding events:
Wood:  From farmhouse tables and Crossback chairs, to centerpieces and cake displays, the rustic charm of wood is a mainstay for this wedding theme.  Although wooden tables and chairs are more expensive to rent than folding options, as the old saying goes, "you get what you pay for."  Wood can also be incorporated into other areas of the reception.  Utilize wine boxes to accent the wine bar or to create floral centerpieces.  When it comes to photo ops, a collage of vintage doors or closed barn doors have become a popular background for intimate wedding photos.
Bark:  The distinctive look of white birch bark has provided inspiration for many rustic chic weddings.  From frosted wedding cake masterpieces designed to look like birch trees, to budget-friendly DIY centerpieces, the birch effect adds a nice touch to the overall rustic chic theme.  Work with your florist to create white flower centerpieces in birch vases, or opt for a more budget-friendly option of votive candles atop birch chunks of varying heights.
Hay & Wheat:  Nothing says "rustic wedding" more than hay bales and barns.  Use bales of hay lined with burlap to create a lounge area for guests, or use in lieu of folding chairs at the wedding reception; keep in mind that although this will add to the theme, you may be sacrificing guest comfort.  Sprigs of wheat are often incorporated into rustic wedding bouquets or centerpieces, and can be used to dress up the back of chairs.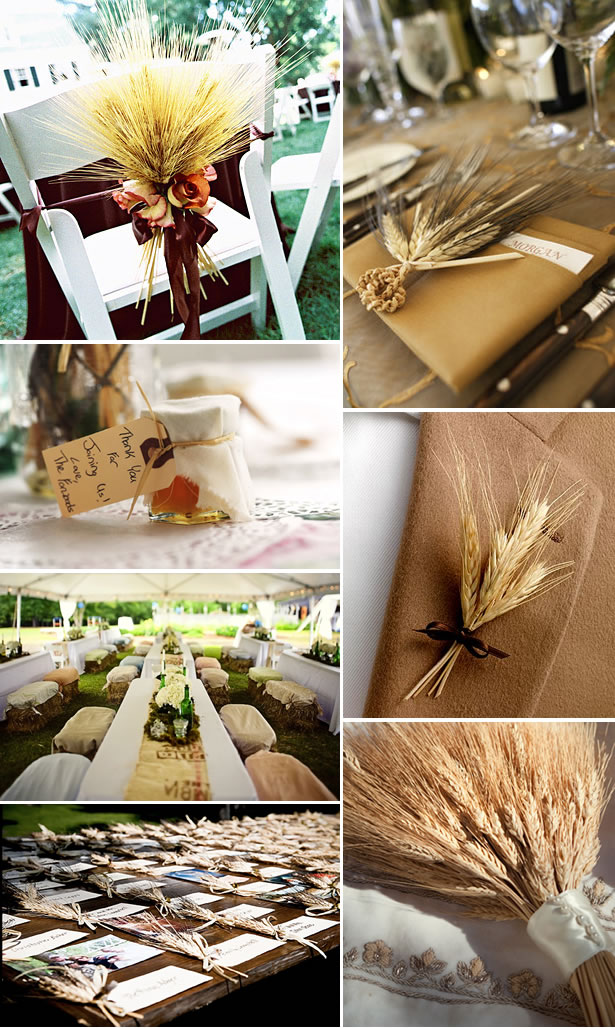 Burlap Linens:  Add texture and warmth to your wedding day décor with burlap linens.  This heavy woven fabric is often used to cover hay bales being used for seating, used as a table runner, incorporated into place settings as a pouch to hold utensils, or fashioned into rosettes for a unique faux flower arrangement. Given its rough texture, true burlap is not typically used as a full linen. To get the look and color of burlap in a soft linen fabric, linen companies have developed "faux" burlap.
Wine Barrels:  Flank ceremony aisles and reception entrances with wine barrels featuring seasonal floral arrangements, or fashion cocktail bars out of a couple of wine barrels and a plank of rustic wood.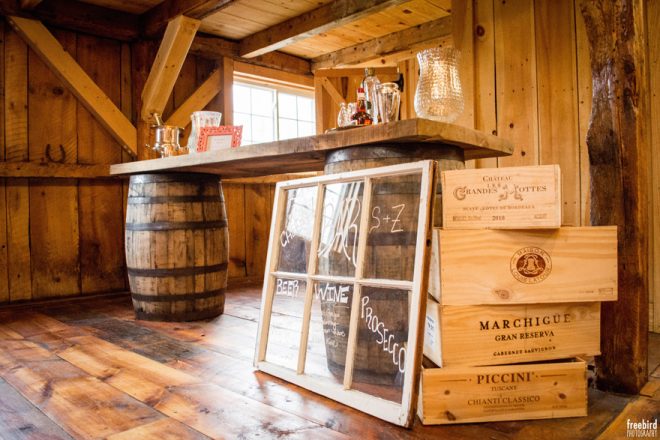 Floral & Woodland Greenery: More and more Brides are choosing to incorporate ivory tones, wood textures, and natural settings into their special day.  This theme commonly referred to as "Woodland" or "Whimsical Woodland," can put a unique spin on the traditional rustic chic concept.  In addition to pulling in seasonal wildflowers, the overall look is complimented by items such as dried flowers, willow branches, moss and pinecones.
Looking for more inspiration?  Check out our "Rustic Weddings" board on Pinterest.