So it is not a myth that couples, especially women, work hard at looking their best for their wedding day. Honestly it is quite amazing to see ALL of the advertisements in the magazines. From teeth whitening to plastic surgery, from Botox to laser hair removal, the options are endless! I wouldn't say that I am a vain person, but I too have tried to figure out what is important for me to feel my best on my big day.
Figuring Out Your Wedding Hairdo
First, I decided to grow out my hair. My aunt has always done my hair for special occasions and this will be no different. Did you know your hair only grows about a half of an inch per month on average? I'm only looking at a few inches, but every little bit counts. So now, the questions becomes, "should I keep my hair down or tame my locks in an up-do?"
Some things to consider:
People will be hugging you, there will be uncontrollable weather, wild dancing, etc. All of these factors play a role when your hair is down.
If you love the idea of having your hair down, bring a hair survival kit…. hairspray, battery operated curling iron, etc.
If you are thinking about an up-do make sure you have photos and ideas.
It is important to do a trial run of your up-do so you are not stressing on your day. The trial can cost as much as your wedding day hair, but it is important to make sure your hairdresser has the skills she says she does.
Finally, if you are getting married in a distant location, ask your hairdresser if she will travel or find someone in the area of your wedding to do the trial.
Planning Your Wedding Day Face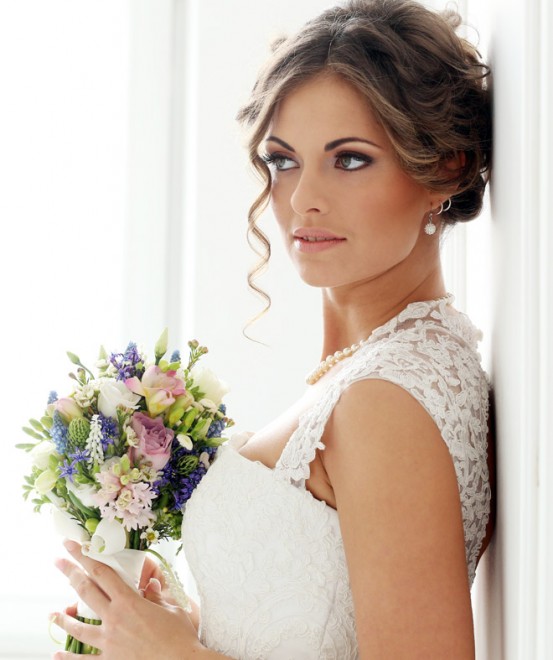 Even if you don't typically wear makeup, for wedding day photos you'll want to highlight your eyes, bring a little glow to your cheeks, and play down any imperfections. Princess Kate Middleton is rumored to have done her own wedding-day makeup—and she nailed it—but you may prefer to bring in a pro, especially if you don't consider yourself a makeup pro.
To find someone who understands your style (glam vs. natural beauty), consult a few local makeup artists early on. Book at least six months ahead, then schedule an additional trial two months before the wedding so you will have a better feel for how you want to look and there won't be any scary surprises on the big day. I've been selling Mary Kay cosmetics for years so I had a host of professionals to consult. Although I feel pretty confident about my makeup hand, it was nice to have one less thing to personally deal with on the big day.
Getting in Shape for the Wedding
My next order of business was tightening and toning. Honestly, I would sit on the couch, watch the television and think about working out. I remember thinking that once I was engaged with a wedding date, I was going to kill it at the gym and work out constantly. Well, for the first month, I thought about it. Finally, I bit the bullet and joined a gym in my area.
I decided to work out with a personal trainer. I know it was more expensive, but I felt as though I would stay motivated with accountability and the trainer would be able to  target my 'problem areas!'
Some things to consider:
When you look at fitness options for your pre-wedding workouts, figure out what will motivate you. Do you just need to push play on the exercise DVD? Are you someone that needs to be held accountable? Would a friend help motivate you, maybe ah Maid of Honor or bridesmaid? Once you have all that figured out, research your options, look at your budget and get to it! And remember, if something isn't working, it is okay to change it up!
My MOH, Amanda, and I decided to join a local gym that was more 'a la carte' if you will. We liked the fact that we could pay for the classes we went to, instead of paying for unlimited use. It seemed that if I paid for the class I would go, if I paid per month I would fall off the band wagon. And to save some money we would plan a hike instead of a class. We enrolled in our new gym and got a one-hour session with a dietician. She was great, but I didn't learn anything I didn't already know.  It did remind me of everything that I had heard though. For instance, if you want to get in shape it is 80-85% what you put in your mouth and 15-20% of how you expend your energy.
Another helpful tip is to use your phone. There are so many apps out there that can help you. The biggest thing is writing everything down, most importantly food. Amanda and I found an app that we really like. "My Fitness Pal" allows you to track your food, weight, water, workouts, measurements and more. It also helps you decide how many calories you need to get to your goal in a specific amount of time. Priceless!
My main goals were arms and thighs. I regret that those goals ever came out of my mouth because my trainer pushes the heck out of me now. But as I sweat, count calories and sorely walk up and down the stairs to my house, I remind myself that I truly have wanted this all along. My wedding is just my motivation to get there!
Most Importantly….
As you shape up, remember to have fun and keep your eye on the prize! Not a perfect body, but the fact that you are going to marry the love of your life! You already got the ring, so your man loves you just the way you are!
Do you think people go overboard to transform themselves for their weddings? What are your goals for your big day? Will you keep up your good habits after you say 'I-do' or is it all for that one big day?