Our first entry, Planning An Outdoor Wedding? Read These Tips First, offered eight tips for planning an outdoor wedding. But eight just doesn't cover all the things to consider when hosting your big day outdoors. So, here are eight more helpful tips to create an outdoor wedding that is amazing and memorable.
1. Flaunt the View
If you have a view or prefer a more open, airy feel in your tent, you might have 10′ side poles installed, as opposed to the industry standard 7′ sides. This elevates the tent making it easier to see out. If you are planning to use sidewalls, many tent rental companies can supply clear panels so your view is not obstructed.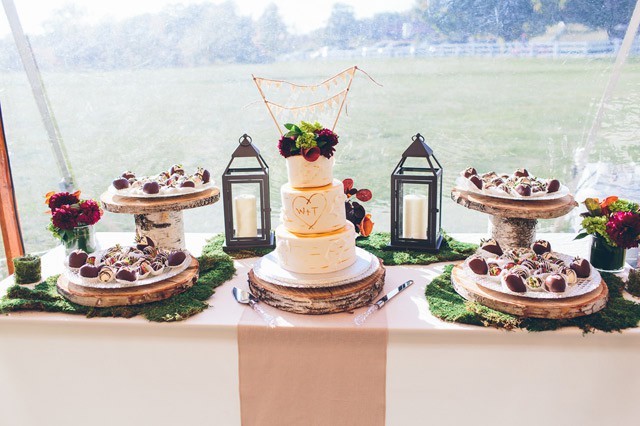 2. Make Sure Guests Feel Involved
If you're planning for a large group, a long narrow tent can put a lot of distance between your guests and food tables, bars, dance floor, toasts and photo opportunities. Guests can start to feel cut off from the action (maybe your 90 year old grandmother won't mind, but most guests do). Increasing the width of your tent to 50 or 60 feet will provide a squarer layout and bring your guests closer to the activity. For example, rather than go with a 20'x100' tent, opt for a 40'x50'. Same square footage, but a much better layout.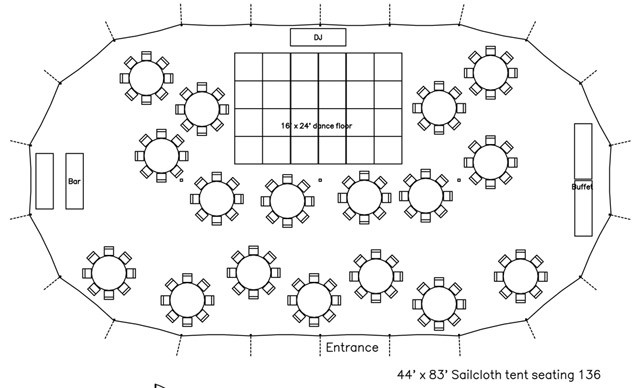 3. Make Sure Guests Can Move
There's nothing worse than getting squeezed into a table with too many people. When planning your seating arrangements, a 5′ round or square table seats eight comfortably and a 6′ round table seats 10 comfortably. Also, dressing your table with long linens may look beautiful in magazines, but the reality is that chairs and feet often get caught in the "puddle." If you can't get linens for your tables that hit at or just above the ground, consider going with shorter linens rather than longer ones.
4. Make Sure You're Powered Up
Depending on your venue or how far your site is from a power source you may need to rent a generator to supply extra electricity….especially if you have a band, catering ovens and extensive lighting. Your rental provider should be able to supply you with the necessary equipment.
5. Create a Surprise
If you have the space you might consider using a cocktail tent to provide an intimate setting for guests to mingle before being seated and allow you to preserve the surprise of your decorations in the main tent. This can also double as the buffet serving area and allow you to use a smaller main tent.
6. Plan an Appropriate Menu
Does your caterer have experience with outdoor wedding menus? Make sure he or she is planning things that will keep well outdoors in the heat. Avoid items with mayonnaise or dishes which must be served cold. You want your wedding to be memorable; food poisoning is not a good memory.
7. Light the Way
For an evening wedding or if the festivities will continue even after the sun has set, be sure to include twinkling votives, tea lights, lanterns, or strings of small sparkly lights into your decorating plans. In addition, be sure to illuminate walkways, steps, paths to the parking area and restrooms, and other potential night time safety hazards. If string lights are not practical, coffee cans partially filled with sand can house a candle and create a glowing path for guests.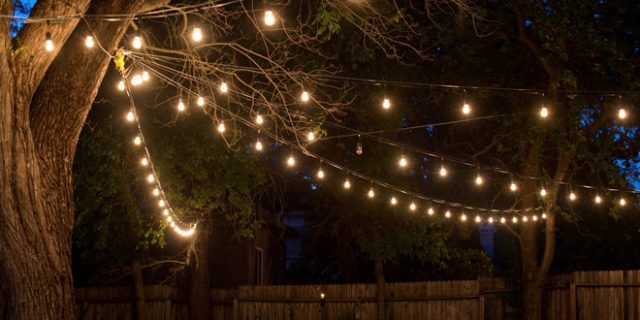 8. Research Rental Agents
Outdoor weddings can require a significant amount of rentals–-tables, chairs, lights, tableware to name a few. Finding a quality rental agency is of the utmost importance. Don't let price be the driving factor. Among our local competitors, the "cheapest" supplier also has some of the shabbiest tents and dirtiest rentals (consider that a cheaper rental price often means no one is being paid to clean items in between events). On your big day, the last thing you want to be doing is wiping down chairs and removing dirt from tent sidewalls.