This article was originally written for and posted on TopWeddingSites.com, March 25, 2012.
If you're planning your own DIY wedding, you're not alone. A growing number of brides are rolling up their sleeves to plan their weddings and save some money. But some brides (and grooms) can get in over their heads trying to save a few bucks on every aspect of their wedding.
If you're having a wedding or reception at a location where you need to provide tables, chairs, linens and tableware, renting these items lets you concentrate on the event and enjoyment rather than spending time buying or borrowing tables, chairs, serving items and more. Here's are four reasons why:
1. Renting Gets You Everything You Need
You may be able to buy or borrow the items you need, but if your guest list has more than 50 people you will likely end up with quite a few mismatched items and possibly a logistical nightmare. By working with a  full-service rental provider you have access to a large selection and quantity of furnishings, glasses, dishware, linens and more. You can  rent everything you need for the look you want. And because rental providers offer a greater selection, they can give you different options to meet your budget. For example, 5' round tables generally cost the same as 8' rectangular tables, but you can get more people around an 8' table and the linens are typically less expensive.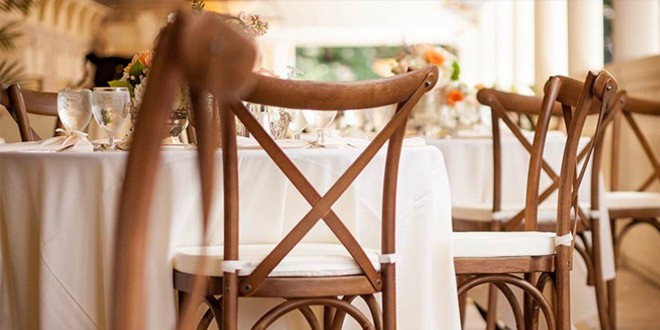 2. Renting Lightens Your Pre-Wedding Load
Again, unless you can borrow everything you'll need from one person, you'll find yourself driving around like a mad woman trying to gather all the items, and then having to make space in someone's garage or spare bedroom to store until the big day.
A rental provider typically provides delivery, set-up assistance and pickup, saving you time and helping provide peace of mind. In addition, if your order isn't too large, many providers will allow you to pick up and return rental items to their warehouses, therefore saving you the delivery fee (although with the price of gas, delivery fees really aren't too bad). Come prepared. If you don't own a truck to haul the tables and chairs you'll need to borrow or rent one. You may have generous, helpful family and friends who will Sherpa all these items in; just don't forget to mention that you'll need them to tear down and return everything too.
3. Renting Helps You Be Kind to the Planet
While disposable linens, tableware and plastic cups may cost less, consider how much waste you're creating, not to mention the look you're getting. Plastic plates may be fine for a backyard barbecue, but for your wedding day you really should spring for something a little nicer.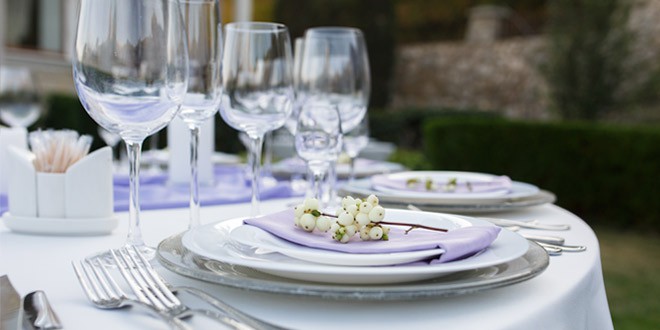 4. Buying (vs. Renting) Rarely Pays Off
And finally, if you're considering buying items for your wedding, such as the linens or plastic folding chairs, my advice is, unless you'll use the items for a long time, renting is always more cost effective.
DIY wedding's can be advantageous for a number of reasons — just don't forget to factor the extra costs, that may not come in the form of a bill, when deciding what you should personally handle.