To add to the wedding day entertainment, couples are turning to the tried and true: games. From interactive Mad Lib wedding programs to lawn games during the cocktail hour, games are a great way to break the ice between guests and get friends and family mingling. Consider adding a few of these activities to your backyard-wedding event:
Cornhole
This beloved beanbag toss game is a hit with all age groups. Depending on the size of the crowd, you may want to scatter a few sets throughout the reception site, or group them together for a full-blown Bride vs. Groom tournament. In addition to upping the fun factor, these boards can be customized with wedding colors or monograms to add a decorative flair.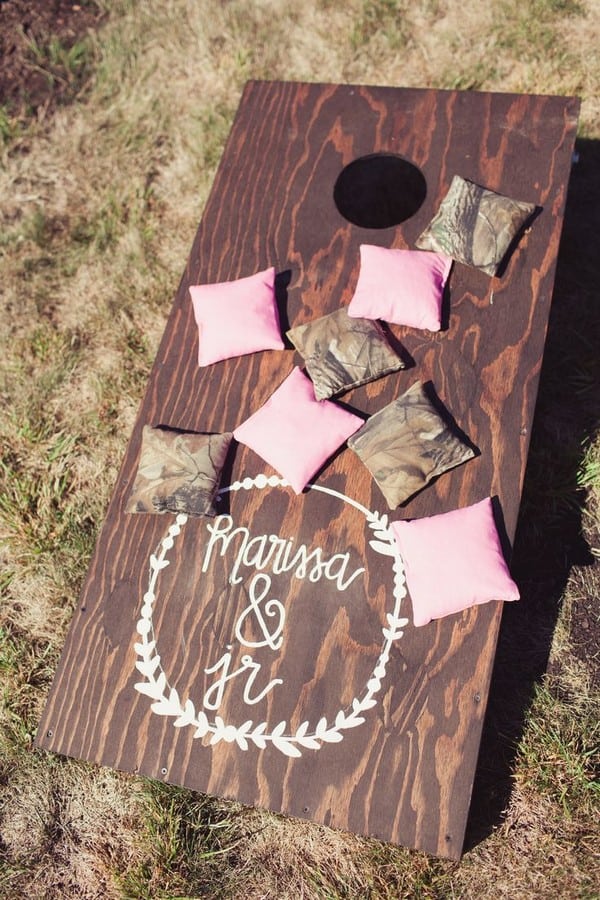 Croquet
If you have the space, consider setting up a 9-wicket croquet course. This time-honored classic can be played with 2-6 players and is perfect for flat green spaces. Quality sets can be found for under $100 and can follow the Bride and Groom into "Happily Ever After."
Badminton
Little to no experience is needed to "fly" a birdie. If space allows, set up a net and provide plenty of rackets. Although traditionally a two-person game, guests can get creative by forming teams and coming up with a few party-related rules.
Bocce Ball
Provide guests with a cocktail hour icebreaker by setting up a casual game of bocce ball. Players rely on strategy and precision to ace this game, so best to plan this for the daytime hours.
Ring Toss
No matter their age, guests won't be able to resist the urge to toss a few rings. Add a decorative touch to a rustic backyard wedding by painting wine bottles to coordinate with your wedding colors. Rings can be fashioned out of plastic tubing, sturdy rope, or embroidery rings. Tie the game together with a wooden wine box or country-chic woven basket.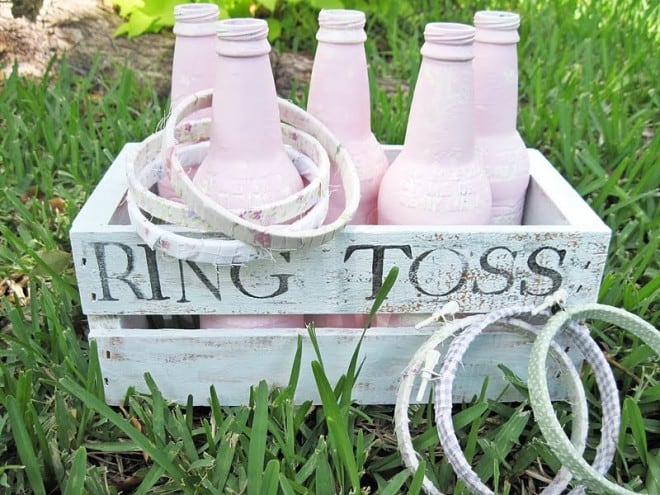 Limbo
How low can you go? Grab a long pole, add some music, and gather the wedding party on a sandy beach, lawn, or dance floor. Liven up the game with fun prizes for top winners.
Mad Libs
Wedding receptions can be awkward for many guests. Help "break the ice" by encouraging guests to interact with others at their table. Browse the Internet for wedding themed "Mad Lib" sheets, or create your own based on your relationship. Guests take turns filling in the blanks and then share in the laughs. Sheets can be displayed for all to read, and make for a great memento for the newlyweds.
Horseshoes
Who doesn't want a little extra luck on their wedding day? Find a flat spot away from the crowd and let the lucky charms fly. From chair backs to wedding favors, horseshoes can also be woven into the overall theme of a rustic wedding.
Lawn Twister
Do your family and friends like to have a good time? Create an outdoor twister game with a circular template and a bit of spray paint. Peruse Pinterest for step-by-step instructions on how to bring this outside-the-box game to life.
Hula Hoop
Particularly popular amongst the kiddos, hula-hoops can add a whimsical touch to any celebration. Hoops are available in a variety of colors, sizes, and weights and are sure to add giggles and plenty of photo ops to your special day.