Like every bride, you want the wedding of your dreams.  But with the cost of the average wedding coming in at a whopping $31,213, according to the Knot, most brides are looking for creative ways to make their dreams a reality without breaking the bank.  Here are seven budget-friendly wedding reception ideas that deliver a luxury look.
1. Set the Mood with Lights
When it comes to lighting, your options are endless.  Skip the expensive chandeliers, in lieu of LOTS of twinkle lights. Not only are twinkle lights easy on the budget, they make everything feel more dramatic.  If you want to add a touch of romance, incorporate an assortment of floating candles, tea lights, votives, and pillars.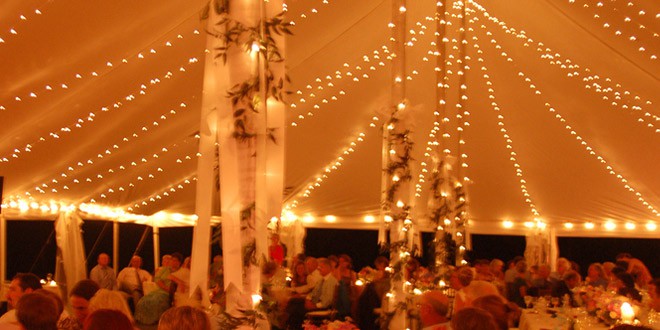 2. Take Control of the Flowers
Huge floral arrangements may be popular, but the cost can be astounding.  If you or a family member has a green thumb, consider buying cut flowers directly from a wholesaler, using wildflowers, or planning ahead and planting flowers to use for the big day.  Greenery and branches from forsythia, hydrangeas, and trees make great fillers and bring a seasonal look to the wedding day décor.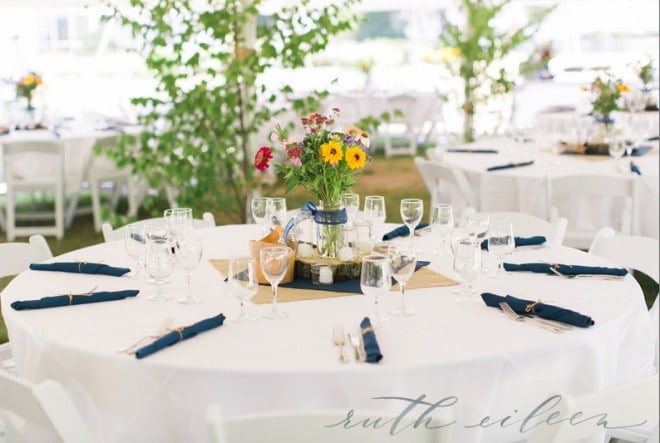 3. Rethink the Tables
Farmhouse tables are all the rage, but are more expensive than standard tables with tablecloths.  If you want the rustic look of farm tables, consider using half farm tables and half regular tables, or limit the use of farmhouse tables as accent tables for the hors d'oeuvres, desserts, and gifts.  This will create a rustic chic wedding vibe without killing your budget.
4. Invest in Beautiful Chairs
Depending on the size of your guest list, consider adding a luxurious touch with wooden cross back chairs or Chiavari ballroom chairs.  Both chair types typically come with chair pads, which make them very comfortable for guests, and give a high-end look to any table.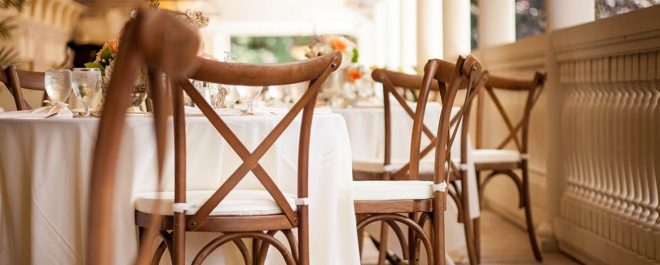 5. Dress-up the Table
From the place settings to the centerpieces, think of your wedding tables as pieces of art.  Set the mood by selecting glamorous linens, like pintuck or sequins, and choose a fancy fold for napkins or use as a pocket to hold the dinner menu or silverware.
6. It's all about the Tent
When selecting a tent, work with your provider to discuss which tent type will work best for your site and your budget.  While prices range considerably for different types of tents, regardless of which tent you select make certain you rent from a reputable tent rental vendor. Nothing can downplay your elegant event more than a dirty or dingy tent. Check online reviews and don't be afraid to ask your vendor how and how often they clean their tents.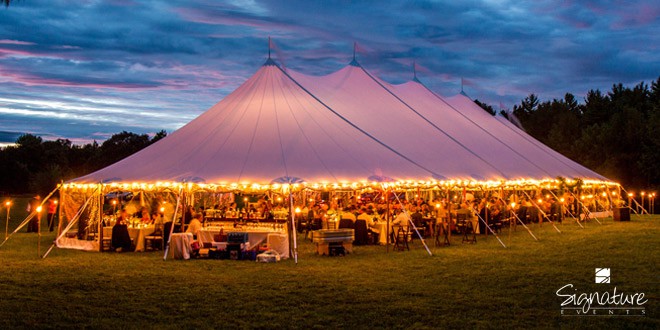 7. Dance the Night Away
Planning to host a live band or DJ at your wedding reception?  In lieu of expensive staging, opt for a larger dance floor.  As long as the entertainers agree to have guests "up close and personal," you can save without changing your entertainment lineup.  If live entertainment is off the table, get your guests, of all ages, onto the dance floor with a playlist of popular songs from different eras and be sure to rent a quality sound system.